Daylilies for Sale in Alberta, Canada
Welcome! Thank you for choosing Gablehouse Farm and Gardens where we love all things daylily. We're Jeff and Carolyn Bondy, and this farm is our home, our work and our love story. Here on our farm in the scenic Parkland region of Central Alberta, Canada, you will find over 450 registered cultivars of field-grown Hemerocallis.
The land for Gablehouse Farm and Gardens has been in Carolyn's family for over 65 years. Some of her earliest memories are of tending flowers with her mom right in the same garden where we now grow daylilies.
Now, as the second generation on this farm, we are proud to have dedicated a portion of the pioneer heritage of this land to our greatest gardening passion – daylilies. Read more 'About Us' >>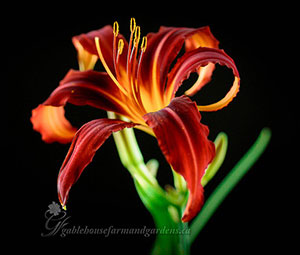 Daylilies (Hemerocallis) originally came to North America from Asia in the 17th century and quickly gained favor among gardening enthusiasts . The modern hybrid cultivars of today multiply well without becoming invasive and grow in any type of soil.
Regarded as one of the most versatile perennials, daylilies provide great garden value along with elegance and practicality. They come in a myriad of colors, shapes, sizes and heights. By combining a variety of early to late blooming types, your garden can be filled with blossoms from early summer to the frosts of fall.
Daylilies are easy to grow and ideal for the low-maintenance gardener. If you can grow grass, you can grow daylilies. But so much prettier!
We offer a large selection of diploid and tetraploid cultivars. Both are equally beautiful. All our daylily varieties are high quality, hardy plants suitable for Canadian Hardiness Zone 2b conditions.
Whether you are a home gardener, professional landscaper or private greenhouse operator, you will find daylilies to suit your horticulture needs. There is a daylily for every occasion, person, place and price. We are happy to provide lots of information regarding selection, planting and upkeep. Our goal is for you to be successful in growing daylilies.
Farm-Gate & Internet Sales
Our daylilies are for sale on the farm during peak bloom time – July to August.  Or if you wish to purchase them in person earlier in the season you can contact us by phone or email.  As well, purchases can be made via our website at any time of the year using PayPal.  If you do not use PayPal, send us your order via email or phone, send a cheque in the mail, and we will ship your daylilies when they emerge in the spring.
We have an extensive FAQ (Frequently Asked Questions) section that may answer your Daylily questions. Read our FAQs>>