Deciding On Daylilies by Design
Making decisions is a big part of life with a garden. Sometimes we make the best choices after a few decisions that turned out to be big learning experiences rather than the success we had hoped for. The design we choose for our outdoor space and its subsequent use of plant material ranges from simple to complex. We all strive to find that pleasing balance between, what do I like? how much time, energy and available income do I have to make my garden ideas work? what are the growing conditions? and what kind of look am I trying to achieve? The bottom line is, how can I make this a' win-win' situation for me, and my garden? Fortunately for us, the' Darling Daylily' provides answers to all of these questions with its characteristics of beauty, versatility, vigor, variety, adaptability and low maintenance. Daylilies fit the entire spectrum of easy-going to the most demanding of designs.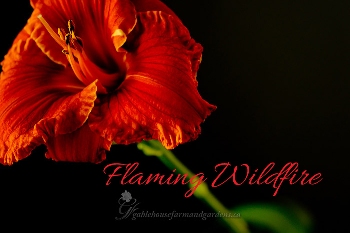 One of the first things many of us think of when we start the decision-making process for our garden design is color. What colors do you like? What kind of feel do you want to have in your garden? What are your favorite colors? What are some of the colors and design elements in your favorite gardens? What color is your house?
Because beauty is personal and color is totally subject to individual taste, choose colors you enjoy looking at. Incorporating them where ever you can on their own, in pleasing combinations or with other complementary colors will help you create your own signature space. Daylilies come in every hue and tone imaginable except true blue and pure white. Keep in mind that dark colors tend to recede or blend in whereas light colors will catch the eye and stand out. Saturated colors take on even greater vibrancy in a sunny spot. Therefore, it is useful to observe how the prevailing light will influence the colors you have chosen.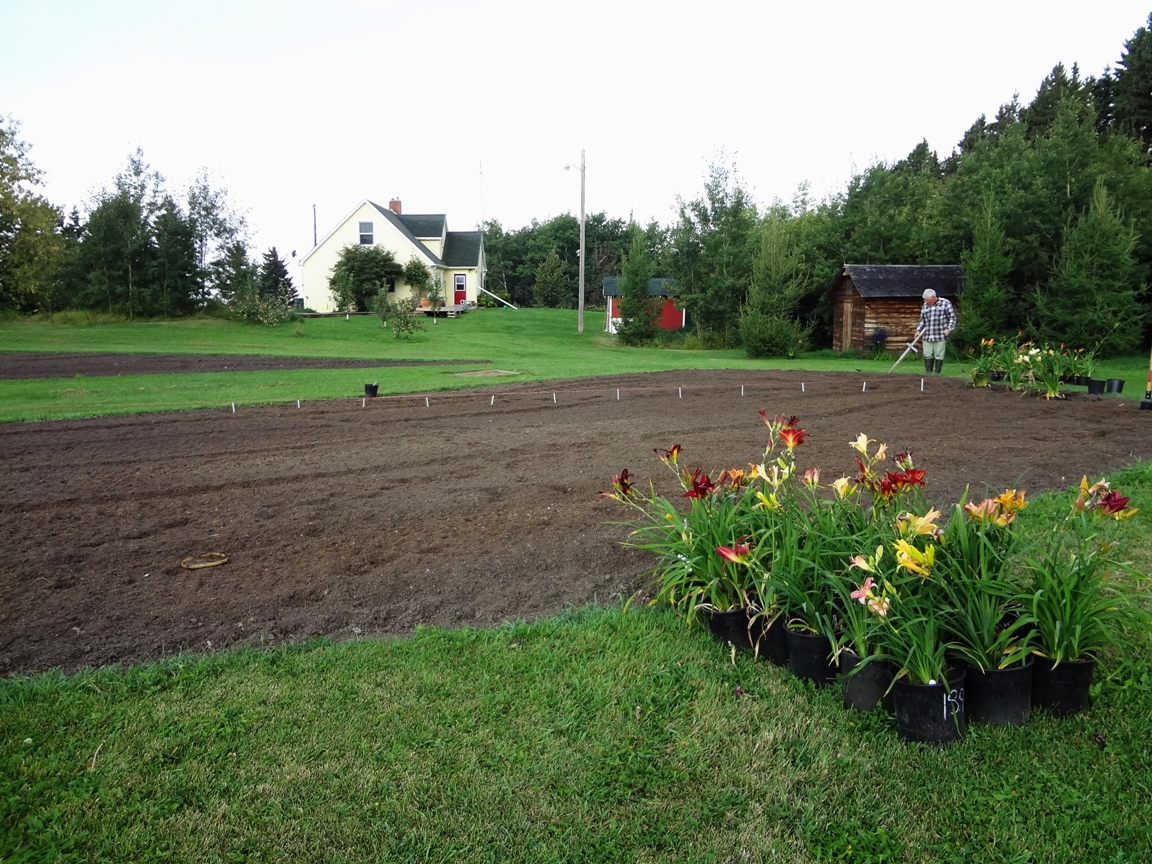 Judging by the color of our house at Gablehouse Farm and Gardens, both inside and out, the color yellow is probably my personal favorite. I love the optimism, cheerfulness and reflective qualities of yellow. It adds 'pop' to sunny and shady areas alike and is one of the easiest colors for the eye to look at. And of course, there are hundreds, maybe even thousands of yellow daylilies in one shade or another ranging from short to tall, simple to doubles, patterns and ruffled edges.
While exotic blooms dripping with heavy ruffles and fringes, picotees, and gold braiding are tempting, daylilies with a tidy habit and long bloom time ultimately provide greater garden value. At Gablehouse Farm and Gardens we have access to a large data base of the latest hybridizing and cultural information, enabling us to help you succeed with all your daylily choices – whatever color strikes your fancy and wherever you choose to put them.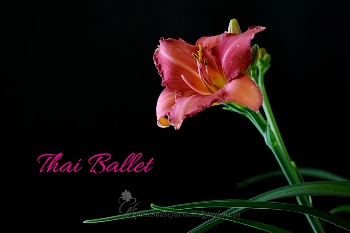 Are there some really good answers to the seemingly never-ending questions? YES! Again, the 'Darling Daylily' fits the bill. Begin by selecting regional appropriate registered cultivars. Daylilies thrive throughout all of Canada and the United States, but each cultivar has a favorite climate. Three of the most popular but highly overused daylily varieties, 'Stella de Oro', 'Pardon Me' and 'Happy Returns' require a good winter chill, as do hundreds of other reliable yellows and purples at Gablehouse Farm and Gardens. Some cultivars coming from coastal sources or other areas of Canada where there is more heat and humidity suffer from a failure to thrive or become a disappointing 'one year wonder' in our Alberta clime of Zone 2 – 3.
The task of filling your flowerbeds with plant material is probably the final reward for all the hard work it takes to arrive at this quintessential point. A big part of the preliminary work includes starting with soil that will support the demands of the 'Darlings' growing in your garden. When you put in a new garden or renovate an existing one, understanding and enhancing what you already have under your feet is vital to further success.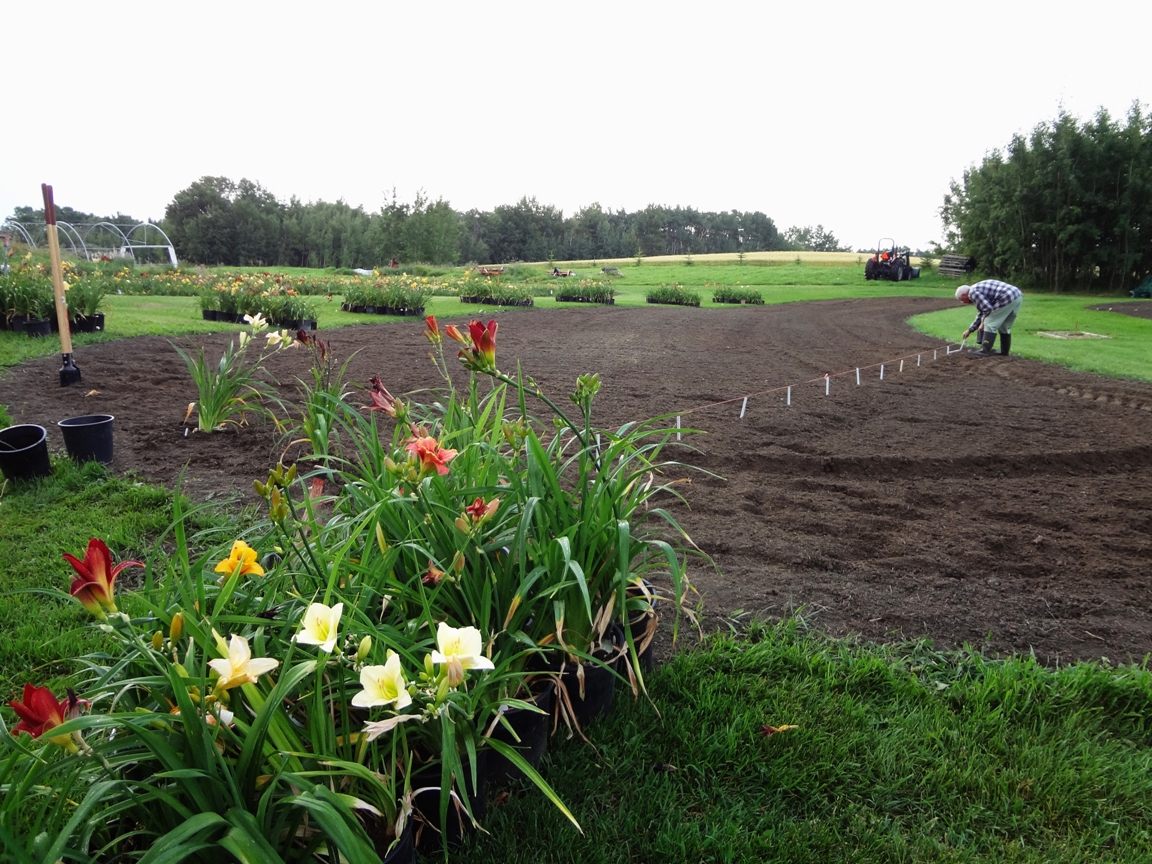 "Healthy soil makes for healthy plants". Good soil promotes lots of blooms, lessens the risk of disease because the plants are not under stress and lowers the demand for added fertilizer. The 'Darling Daylily' takes a first place standing when it comes to adaptability, as they are tolerant of a wide variety of soils. Because they have very deep roots and are heavy feeders, daylilies perform beautifully and will withstand dry summer heat when planted in deep fertile soil. Beds can be amended by removing the existing soil to a depth of six inches plus (if necessary) and replacing it with nutrient rich organic matter to a depth of eight inches or more. Peat moss, screened loam, good quality top-soil, composted steer manure, composted sheep manure or a combination of the aforementioned are all possibilities. (Did you know that sheep don't eat weeds?! Apparently it's true!)
Calculating the number of 'Darling Daylilies' (or other perennials and shrubs if you must – just kidding) you need for an area can sometimes seem a puzzling proposition. The following simple steps will help you calculate how many plants you need.
#1. Measure the area of your space to be planted. Eg. A flowerbed 3ft. by20 ft. equals 60 sq. ft. of space. Now – here's the trick that makes it easy. Allow 2 sq. ft. for each perennial and 5 sq. ft. for each shrub. Therefore, 60 sq. ft. divided by 2 (for daylilies or other perennials) means you will need 30 daylilies for this area.
#2.Because you want your bed to have flowers in all three growing seasons, divide 30 by 3 which equals 10. You now need 10 daylilies ( or combination of perennials and shrubs) for each season.
#3. It is always best to plant in clumps of uneven numbers for a natural look – 3,5, or 7. Clumps of three are usually sufficient unless the bed is very large. Now you need three different varieties for each season and 3-4 plants of each variety – making a total of 10 daylilies (or perennials) for each season.
In review – Using this method you will have 3 different spring varieties (3 – 4 plants of each), 3 different summer varieties, (3 – 4 plants of each) and 3 different fall varieties (3 – 4 plants of each). That makes a total of 30 varieties on your daylily shopping list – and lots of color- plus interest in your new garden from spring to fall, especially when you include the elements of varying heights, foliage, flower shape and size in your design. It is really important to apply the lesson that a few varieties of daylilies with more of each variety will provide greater impact and a strong sense of harmony in your flowerbeds.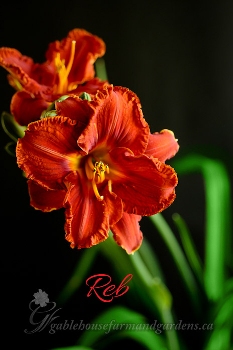 If you absolutely love collecting every daylily that catches your eye, then consider limiting your color range to something like pinks, peaches and cream, purple and lavender or whites with lemons. Contrasting colors such as red, orange and gold with white will create a feeling of excitement and an aura of fun in your garden rather than that of quietness and tranquility.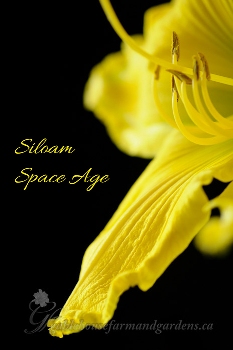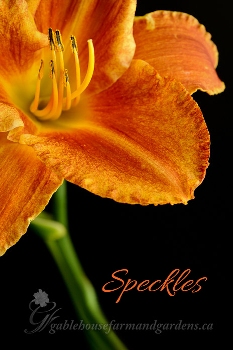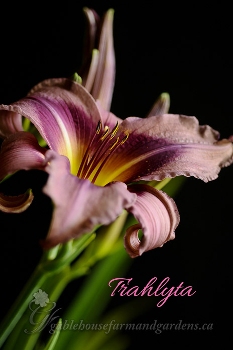 Daylily foliage also contributes to the overall design. Used properly, it provides great texture, whereas too many foliage types mixed at random produces the equivalent of a bad hair day! In addition, some cultivars provide late season interest as they remain green almost to snowfall.
Remember to keep the realities of maintenance and inevitable change in the details of your design. Daylilies are wonderfully vigorous, so the single or double fan you put in will look nothing like the clump of five years later. I love the look of big established clumps without the wait, so the rule of planting in 3's,5's or 7's of one variety keeps the daylilies full and lush with a longer bloom time. You will need to clean out old foliage as is ripens, fertilize in the spring, and remove spent stalks after summer. Providing sufficient space for wheelbarrows or garden carts is essential as are a few stepping stones or paths, thus creating room to maneuver.
What you want to accomplish with your garden is probably the most important point to consider. The late Steven Covey, business leader and entrepreneur called it 'beginning with the end in mind'. Do you want your house to look better from the street? Would you like something pretty to look at through the window above the sink in the kitchen? A nice thick row of brightly colored daylilies in front of foundation plantings or planted 'en masse' with a tall variety in the rear highlighted by short ones in front would look fabulous in either of these circumstances. Maybe you want to extend the flowering season as long as possible into late summer or add a touch of fragrance to a spot where you frequently sit or walk.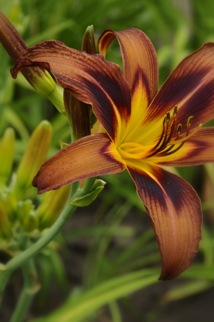 Some daylily enthusiasts devote an entire 'show bed' to their best cultivars or plant 'specimen cultivars' in prominent places. Remember, unless you are on your morning vigil to see what's new in the garden, most landscapes are viewed from a distance.
By learning the bloom-time of the daylilies in your garden in conjunction with a few other annuals and perennials, you can create a spectacular show almost from the last frost of spring to the first frost of late summer. Your planting plan might include an early-mid season daylily cultivar and a mid-late season cultivar inter planted with daffodils and squills to provide that spring color we all hunger for after a long period of no outdoor gardening. As well as being more deer-resistant than tulips, the daffodils and squills shine early and then as their foliage yellows the daylily greens rise high enough to hide them. A few well chosen irises along with a clump or two of sumptuous peonies will carry you right into the daylily season.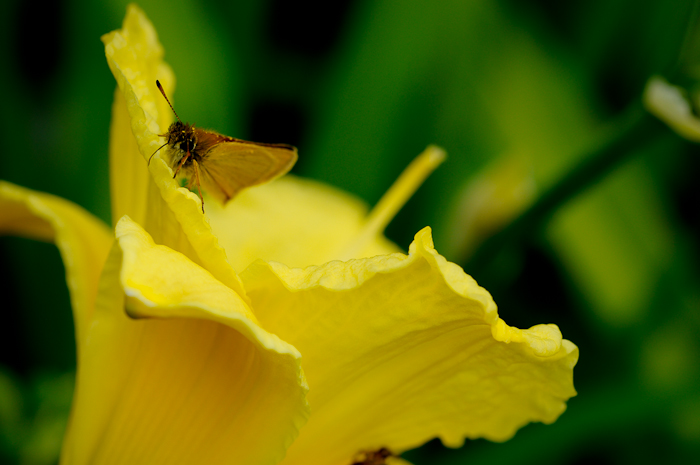 Part of the enjoyment of deciding on daylilies by design (besides being THE Perfect Perennial), is that these darlings of the garden are easily moved, so you don't have to feel like it has to be all figured out first time round. "Gardening is a process to be enjoyed, not a result to be achieved", – Martha's Vineyard. You will probably find that your garden evolves as you evolve. Tastes may change from grand beds in the traditional English border style to a natural area with a winding path. You might want to experiment with large drifts, swathes or sweeps of color, a trademark in the ' Prairie Style' of landscape design. Be inspired to enhance existing flowerbeds or create new ones. Creating a garden is a great adventure and a wonderful opportunity to try new things. Above all – have fun!